Automotive Painted Plastic Masking
Masking an SUV rear hatch in a repeatable and cost-efficient way is really tough. Exterior plastic panels are inherently flexible – which provides toughness but also makes it notoriously hard to seal off during painting. This is a big deal because after these panels are finish-painted the entire back edge is chemically bonded to the inner hatch assembly.
That means that every panel must have a strip around the out edge that is 100% free of paint. "No big deal," you say….except that is a 4' x 3' panel…that is flexible…and must get masked at line speed…and deliver 6-sigma results. This was the challenge that a tier-1 automotive body panel manufacture posed to Echo Engineering.
Challenges
Original Problem: The tier-one manufacturer resorted to using cardboard and tape to mask on the paint line. This added valuable time to the assembly line and created masking that was neither precise nor efficient. This also led to rework and part rejection which is costly and frustrating.
Competitor's Custom Mask Issue: When we made our initial visit to their facility, we were shown a competitor's custom masking solution, that while it was able to mask the top portion of the back hatch, it presented several headaches for them, which included:
Each top cap piece was 2 pieces glued together. After several uses, these would come apart, resulting in the manufacturer having to manually glue them back together before reuse. This came down to needing a better understanding of tooling for what these parts required.
The caps used an excessive amount of silicone. This resulted in the caps being less flexible, harder to install, and roughly 25%-40% higher price than it needed to be.
Their mask used red iron oxide silicone, which in many powder coating cases, has great benefits. But in this case, it made it much harder for their line workers to remove the paint before reuse. We'll go more in-depth later on this.
Racking Challenge: For this custom mask to work properly a special racking had to be created for the mask to be installed correctly on the assembly line. Echo engineers worked directly with the customer to redesign the rack to ensure the custom mask would install quickly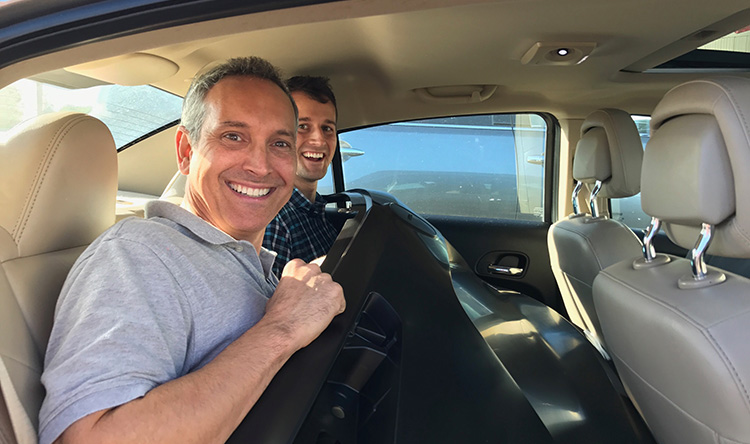 ---
Echo Solution
Interlocking Custom Molded Masks
Due to the size of the masking job, it was not feasible to make a one-piece mask. Because of this, our engineers designed a multi-piece interlocking silicone mask.
To achieve this the material needed to be pliable and tolerant to movement. An oil-free silicone was used to avoid the "crater and ice" effect traditional silicone can cause on the paint finish. The end result was a mask with tolerances and a 1" wrap on the panel around the edges resulting in a 100% paint free mask.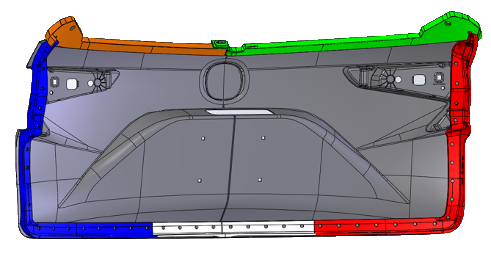 Easier Installation / Removal
When comparing a custom-molded mask, like this one, to using tape/cardboard or even die-cuts, it's no contest when it comes to installation and removal time.
Tier-1 suppliers need to optimize their line's efficiencies, and the paint line is almost always the biggest bottleneck. The biggest fear for many customers is the initial investment in tooling. Due to high line output, making the switch to custom-molded masking can pay off extremely quickly.
The tier-1 manufacturer was able to pay off their initial tooling investment in under a month via labor savings and higher part quality.
Color-Coded for Assembly
Design for assembly (DFA) is a really big deal, especially in the automotive industry, and something as simple as color-coding each piece (i.e. Orange cap for driver side, Green for passenger side, etc.) can make all the difference for assembly line workers.
Reusability
Silicone has excellent temperature resistance, and because the molded masks they were using were large and not exposed to harsh chemicals or extreme heat, the customer was able to get well over 75 uses before needing to replace them.
A huge benefit they got from switching away from red-iron oxide silicone (which we'll go into more detail) was that the paint was much easier for them to snap off of the mask after several uses, giving them the ability to reuse.
---
Material Change: Red-Iron Oxide Silicone vs. Non-Migratory Silicone
As mentioned earlier, one of the customer's previous masks used red iron oxide silicone, which is typically used in powder coating applications where a coater is experiencing issues with flaking.
In this case, the tier-1 manufacturer was not powder coating, nor were they having issues with the paint flaking. on the contrary, they would use masks about 20+ times before 'snapping' the mask to break off the built-up paint. The iron-oxide in the silicone resulted in the paint adhering more, making it much more difficult to remove. Because of this, we developed our custom masks using a non-migratory silicone.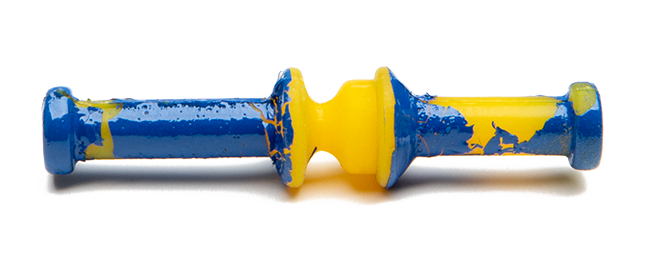 ---
Using Echo's Proprietary Rapid Silicone Prototyping to Speed Up Process
Our innovative ideas extend beyond the custom mask to ensure a long-term successful relationship. When they required a revision to the mask, we used our new and proprietary rapid silicone prototyping technology. This new technology enables the Echo team to partner with customers to understand their needs, create and design a solution, and provide functioning prototypes in a matter of days. The proprietary process results in near-production quality parts, formed in FDA-grade silicone, that can survive high-temperature thermal cycling during metal finishing processes, like powder coating.
Echo simply fused the Rapid Silicone Prototype part to their existing molded part in order to validate the changes. A project like this would normally take 8-10 weeks to create a new tool and production time. Our innovation streamlined the change and enabled launch on the first modification. The Rapid Silicone Prototype saved weeks and reduced downtime on the assembly line and reduced stress caused by scope changes and design tweaks.
This solution is cleaner, cost-effective, and non-migratory silicone does not interfere with painting quality.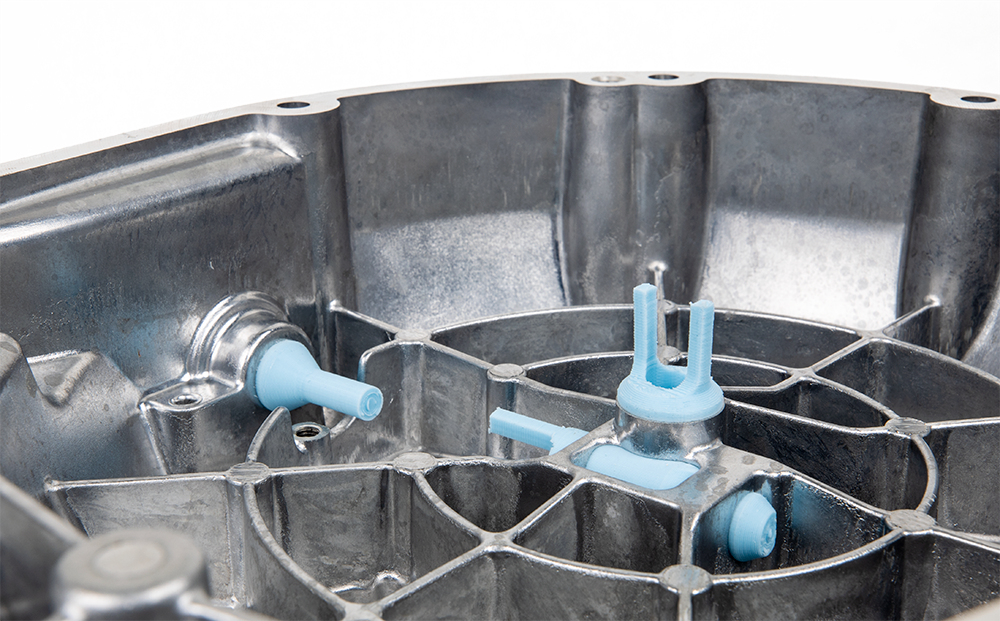 ---
Results
Echo was a clear winner due to our willingness to collaborate, to really understand the challenge, and to deliver real innovation to the customer. Our solutions are truly custom and reduce rework, increase the precision of the mask, and the peace of mind. A few of the highlighted end-results of this project included:
Proprietary rapid silicone prototyping took testing from 8-10 weeks, down to just a few days
Customer was able to achieve 100% paint free mask
Saved around between $3 - $10 per masking cap (depending on the cap version) due to material saving, design, and tooling expertise
No longer required a secondary opp of gluing masks back together
Easier to peel off paint due to material change, resulting in more usages per piece
Customer Feedback
"Masking a really large plastic panel like a rear SUV hatch is hard. There are basically 2 ways to go: throw labor at it or innovate & come up with something that's never been done before. We had been throwing labor at it but were searching for a solution that would save money and deliver a higher quality part. Another major masking player took their best shot but couldn't solve our problem. Then we partnered with Echo; their ingenuity and technical expertise changed the game. The transformation on our manufacturing floor has been amazing. Labor savings, along with higher part quality, paid back our initial investment in under a month."
---
About Echo Engineering
Echo Engineering has specialized in catalog and custom masking solutions for over 50 years. We take great pride in the innovation we've brought to the masking industry, especially with what we've designed, engineered, and molded for tier-1 automotive manufacturers.
If you have any questions or want to explore a new quote, feel free to reach out to us anytime by heading over to our contact us page today.