The introduction of electric vehicles has brought the automotive sector, what feels like, an endless source of new challenges, but it's also given the world a plethora of new opportunities. What this means is that engineers are needing to think outside the box and rethink some of the core elements of bringing their designs to life. Engineers can not stick with the mindset of "we've always done it this way because it works fine"... No, that doesn't cut it anymore.
In today's manufacturing world, we have to find purpose in the products we produce. It can't just be an "if the part fits, it will be fine" type of mentality. It needs to serve as something more than that. In order to do that, part of the process will require taking a closer look at not just the design, but also the materials you choose.
In this post, we are going to take you through a specific thermoplastic material, commonly referred to as TPV (or thermoplastic vulcanizate), that has grown in popularity in the automotive sector and evolved over the years since its introduction in 1981. Before we get into the basics of TPV, we first need to start with a fundamental understanding of thermoplastics.
What are Thermoplastics?
Thermoplastic (or thermosoft plastic) is a plastic polymer material that becomes pliable/moldable at a certain elevated temperature and solidifies upon cooling. Thermoplastic materials have increased in popularity throughout the automotive industry due to their low weight, design flexibility, and part cost savings.
---
Basics of TPV
TPV (which stands for Thermoplastic Vulcanizates) is an elastomeric blend, meaning that it is a blend of elastomer and thermoplastic that can be processed using thermoplastic processing methods. Thermoplastic vulcanizates are a category of the thermoplastic elastomer (TPE) family of polymers, made of a rubber and plastic polymer mixture.
The most common blend of TPV is PP-EPDM. This mixture's elastomer is a highly vulcanized ethylene-propylene elastomer, and the plastic portion is a polyolefin (polypropylene). This blend helps give it good physical properties and chemical resistance for use in a wide range of automotive applications.
Advantages of TPV
Material can be injection molded or extruded
Excellent compression set
Excellent electrical insulation properties
Excellient fatigue resistance
Good tear strength and abrasion resistance
Excellent resistance to polar fluid media
Excellent Ozone resistance
Excellent UV resistance
Recyclable
Good temperature resistance - TPVs have a maximum use temperature in air of 275F for extended periods of time
Disadvantages of TPV
Tooling costs (when compared to EPDM compression molds)
Poor chemicals resistance to aqueous solutions and hot oils
Difficult to bond to Nylon due to polar bond differences
Poor resistance to halocarbons
Low flow coefficient and surface is sometimes prone to flow marks
Inferior wear resistance than rubber
---
High-Performance TPVs
Conventional TPVs are typically made from PP and EPDM. This form will experience a progressive change in its mechanical properties when it's exposed to heat and oil.
Fortunately, there are high-performance TPVs, also known as Super TPVs or Special TPVs, that can effectively operate without any deterioration of their properties under aggressive temperature and oil environmental conditions for prolonged periods of time.
Features of the microstructure-mechanical properties of TPV:
Rubber / Thermoplastic composition Ratio
Adding Fillers
Rubber particle sizes
Rubber phase's crosslinking degree
Rubber network structure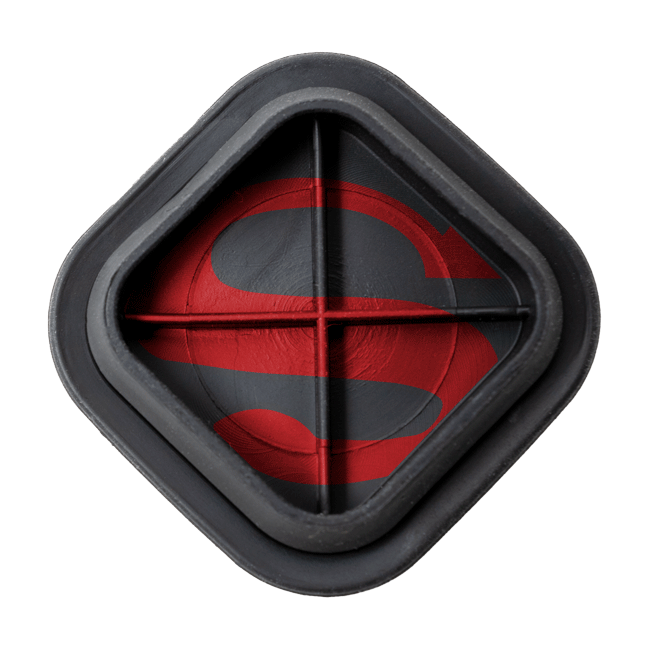 High-Performance TPVs by Elastomer Type

---
Automotive Applications
Thermoplastic Vulcanizates are getting more and more interest in the automotive market over the past few years. TPV is commonly used for panel hole plugs, gaskets, vibration dampeners, air inlet duct covers, headlamp seals, and weatherstripping seals.
To simplify why TPV has increased in usage for automotive applications, it's because the material offers:
Performance - Excellent long term performance, making it a great choice for meeting vehicle durability standards
Lightweighting - This material is not only very light but it also gives engineers the ability to mold thinner profiles, effectively reducing weight even more
Design Flexibility
Recyclability - Resulting in reduced waste and cost-savings
Processing Ease - Resulting in faster production rates, also reducing piece price in many cases
---
TPVs vs. Simple Elastomer Blend TPEs
As we've mentioned before, TPVs are a category of TPEs. The main difference comes from the vulcanization of the rubber phase, which results in several improvements in the material's properties. The primary improvements include:
Increase in tensile strength
Decrease in compression set
Decrease in swelling caused by oils
Improved retention of properties at higher temperatures
---
TPV vs. EPDM | Automotive Panel Plugs
We've specifically worked with electric vehicle manufacturers to understand when to go with an EPDM versus TPV on our panel plugs. Throughout a vehicle, there are a variety of different holes you can find in the chassis, body panels, doors, etc. These holes exist for a few reasons, such as an area for e-coat to drain out of during the painting process, a place for robotic arms to grab onto, access ports, and reducing a vehicle's overall weight (lightweighting). In many cases, these holes are covered using either a butyl patch or a plug.
Part of choosing between TPV and EPDM (or any other material) will revolve around what the primary purpose of the plug will be. Typically, panel plugs will serve the purpose of sealing out moisture, sealing out dirt/dust, reducing NVH, and/or aesthetic finish.
Material Savings: Price of TPV compared to EPDM, as well as TPV's recyclability vs. EPDM's scrap
Weight

: TPV panel plugs typically have thinner wall sections, which help minimize the material volume and weight (20%-30% decrease in weight in certain cases)

Color: Even though the majority of plugs are not visible to the end consumer, TPV retains its color much better than EPDM. This is more of a factor for the other components on a vehicle made using TPV
EPDM Processing vs. TPV Processing
EPDM Process Steps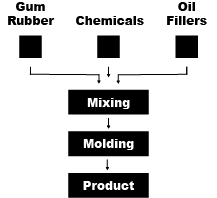 TPV Process Steps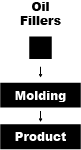 When Does it Make Sense to Choose EPDM?
The 3 primary reasons why automotive manufacturers have chosen EPDM over TPV are:
Quantity of parts needed is low: Low-volume projects make it extremely difficult to justify spending $50,000+ on tooling when a rubber compression tool can be developed in a fraction of the time for a fraction of the cost (Approximately $5,000 - $10,000)
Sealing issues with TPV options: We've seen auto manufacturers make the switch to EPDM due to water/moisture leaking through the TPV alternatives
Vibration reduction: EPDM has a relatively higher damping ratio
---
Conclusion
TPV continues to be an excellent material used throughout a variety of applications, especially in the automotive sector due to its lightweight, ability to exhibit excellent long-term performance, and ability to make an excellent alternative to EPDM. TPV, like most other industrial materials, can be modified based on application needs. So, while this post gives you a solid fundamental understanding of the material, we've only covered the basics.
If you have any questions or would like to look into sourcing or developing an injection molded automotive component using TPV, please fill out the form below.
About Echo Engineering
Echo Engineering specializes in domestic and international molding processes, engineering design, prototyping, and validation. When it comes to automotive products, like panel plugs, Echo is your single source for molded plastics and rubber options. We take into account customers' design needs, tooling options, time restraints, and need for a working solution that meets or exceeds requirements.
You May Also Like...