Imagine this: every time you had to mask off a section of a part before coating, all you needed was a 1"x2" piece of green poly masking tape. Just imagine that is LITERALLY the only masking product you'd ever have to stock AND it worked perfectly every time! That would be pretty great for nearly every powder coater & e-coater we've seen. Unfortunately, that's not the world we currently live in.
New designs are constantly being brought to life. Quality standards continue to become more strict as your end customers become more demanding. To top it all off, the average hourly wage of an assembly line worker continues to rise.
What does all of this mean? You might need to consider switching over to custom masking solutions. The alternative is to keep eating unwanted costs like secondary ops and overtime pay!
In this post, we are going to take you through a variety of custom masking designs Echo has designed and manufactured for some of the biggest brands' powder coating and e-coating lines (and explain their purpose). What we've seen over the years is that many coaters have issues related to masking but don't know what the solution would be. We hope you are able to go through this post and find a solution or inspiration for improving your line's output!
Custom Masking Designs
Below we've listed a variety of designs that have been used to solve issues, such as plugs blowing out, leakage, paint buildup, etc., for powder coaters and e-coaters all around the world. These designs are typically tailor-made to specific customers' needs, which is what you'll get if you choose to go down the path of custom masking with Echo. If you have any questions or would like to request a quote at any point, feel free to reach out to us using the form at the end of this post.
Vent Plugs
A common issue powder coaters and e-coaters run into is having their masking plugs pop out as heat results in built-up pressure. One method of dealing with this issue is by implementing a vented design.
The way it works is by putting a slit into the plug, which allows pressure to release (without allowing the paint to leak in) and then closing up when the external pressure exceeds the internal pressure.
The image shown here is actually a "cross vent plug". That means the vent is covered up in a way that prevents shot blast media from entering the mask. It's also a way of preventing extra powder from sitting out top, giving powder coaters the ability to get more uses out of the plugs.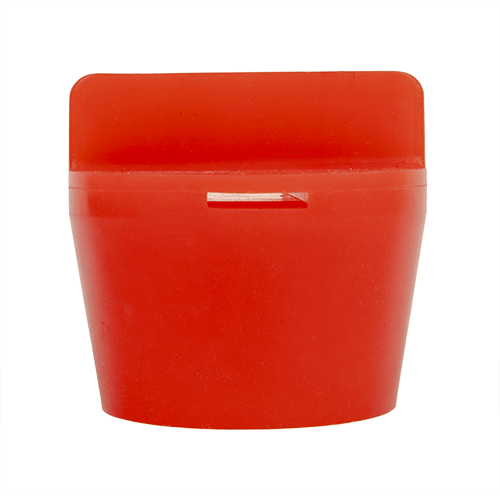 ---
Pop Pin Masks
Another method of venting out pressure is via a "pop-pin" masking method. The way it works is when enough pressure builds up, the top portion (the pop-pin) will allow the air/pressure to release without allowing e-coat / paint to leak in.
The pressure being released prevents leakages, but once the pressure escapes, the top pin comes back down to create a seal.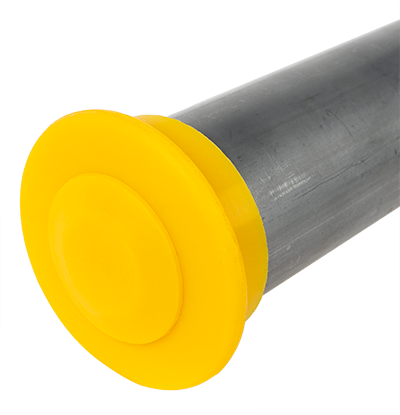 ---
Magnetic Masking
If you're looking to mask off a flat/mating surface that doesn't have anything to grab onto and don't want to deal with masking tapes, magnetic masking is a great option for powder coaters.
These are some of the fastest to install masking solutions you'll find, and it all comes down to the design and magnet that's used. We put a full overview on magnetic masking, which you can check out using the link below.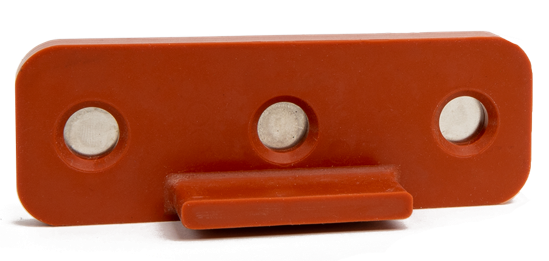 ---
Flanged Caps / Plugs to Reducing Powder Buildup
Powder building up (also referred to as "bridging") against a masking cap/plug is one of the big problems powder coaters deal with. There are several ways of reducing the chances of powder building up, but a common solution is to design a mask with a flange wrapped around it at an angle (like an umbrella or a skirt).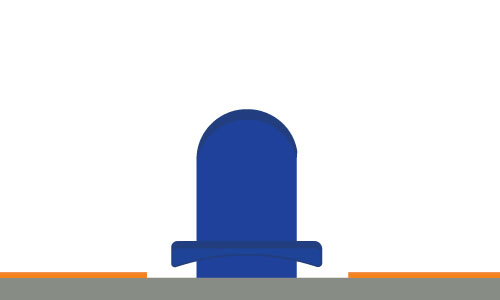 ---
High-Temp PPS Plastic Threaded Plugs
PPS plastic can also be used in high-temperature scenarios. One application could be where you'd mask a threaded hole and the grounding area. The silicone washer acts as a high-temperature seal, while the PPS component works as a way of easily and consistently installing the mask and ensuring the mask stays in place.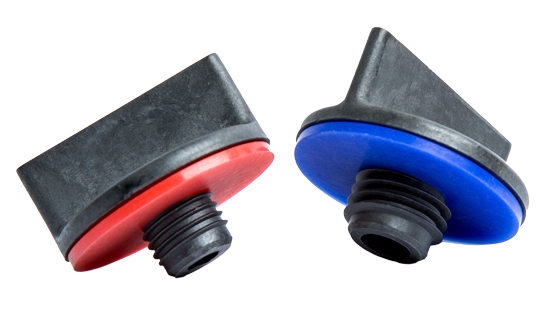 ---
Clamshell Masks
Occasionally, a cap or plug just won't do it, which is why there are clamshell masking designs. These masks work by wrapping around the product needing masked and then pulling pull plugs through to lock the design in place.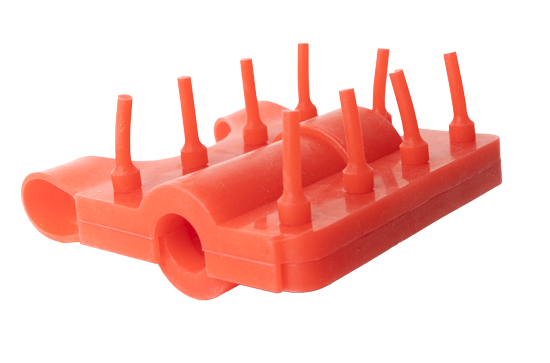 ---
Expandable Masking
If you're looking for highly-engineered masking solutions (at least when compared to standard caps and plugs), this is a prime example. Expandable masks work by combining high-temperature plastic with silicone. When the lever/handle is pushed down to the lock position, the plastic pushes out resulting in a tight seal around the component and the silicone. This makes an excellent method of preventing leakage during e-coat.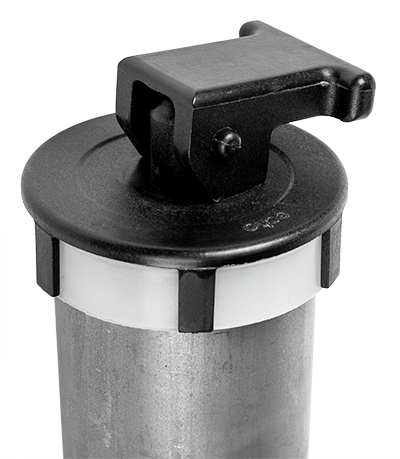 ---
Rubber + Metal Bolt Hybrid Masking
A method of masking threaded holes can be by over-molding silicone onto a bolt. This ensures a tight fit without the need to worry about the bolt's temperature resistance. Like the image shown here, the silicone will typically be part of the design as a way of creating a seal and masking off the chamfered area. This is also a great way of preventing plug blowout as well.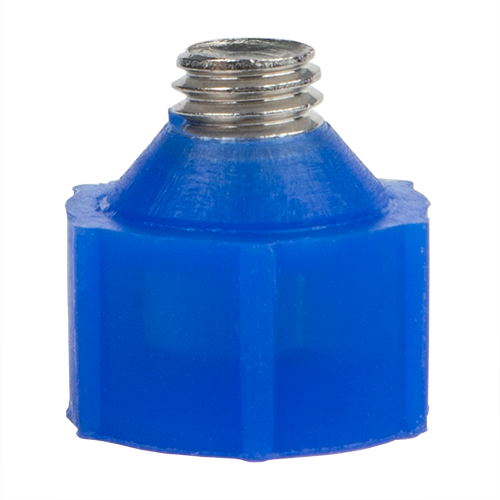 ---
Screw Together Masking
An alternative method to using one super long pull plug or two push plugs that may be at risk of blowing out is by switching to screw-together masking solutions. As you can see in the image here, the design works by having a male and female component where the bolt portion goes in on one side and screws together with the opposite side.
The benefit of this method is you're able to hand tighten it to your desired needs to ensure no leakage will occur. Customers are also able to use PPS as an alternative to metal bolts.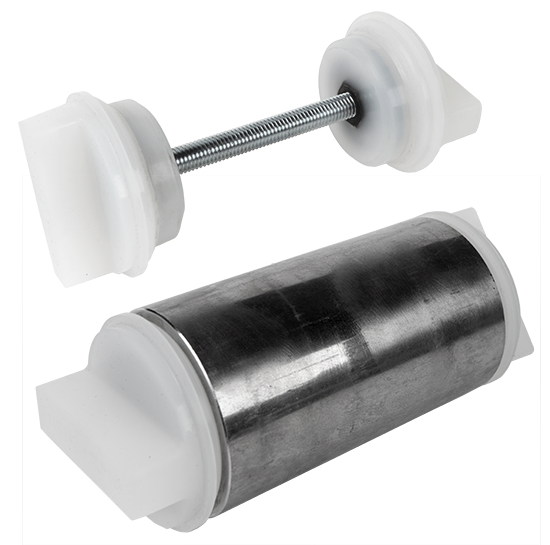 ---
Custom Die-Cut Masking
Custom molded masks are not always the best option, especially when it comes to lower-volume projects or crucial time constraints. In those cases, we recommend going with custom die-cuts that are shaped to your exact requirements.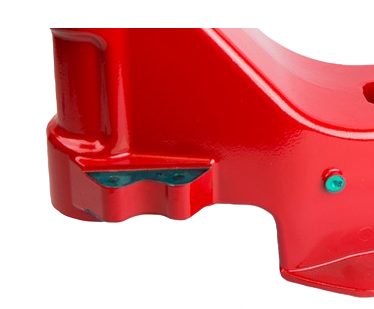 ---
Masking Sleeves for Bores & Bushings
A popular method of masking off bores and bushings now is by using custom-designed masking sleeves. These require knowledge of rubber durometers, thicknesses, and design to get correct, but luckily our engineers are experts at these.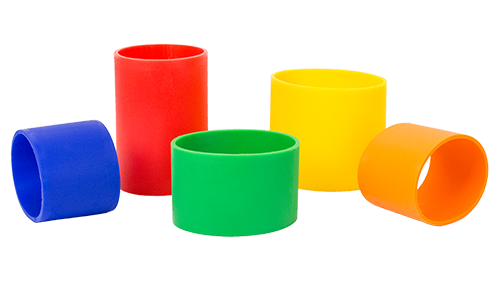 ---
Conductive Silicone Masks
A common request we get is that our customers want to be able to hang their part by the mask. In order to do this, we add carbon black to the silicone to make it conductive, which then gives powder coaters the ability to hang the part.
---
Molded Masking Designs for Mating Surfaces
Mating surfaces are commonly required to be masked off, which can be tricky without adhesive. When there is an opportunity to do so - such as a wheel's mating surface - we can develop custom-molded masking designs that make use of holes/threads/openings that also need to be free of coating.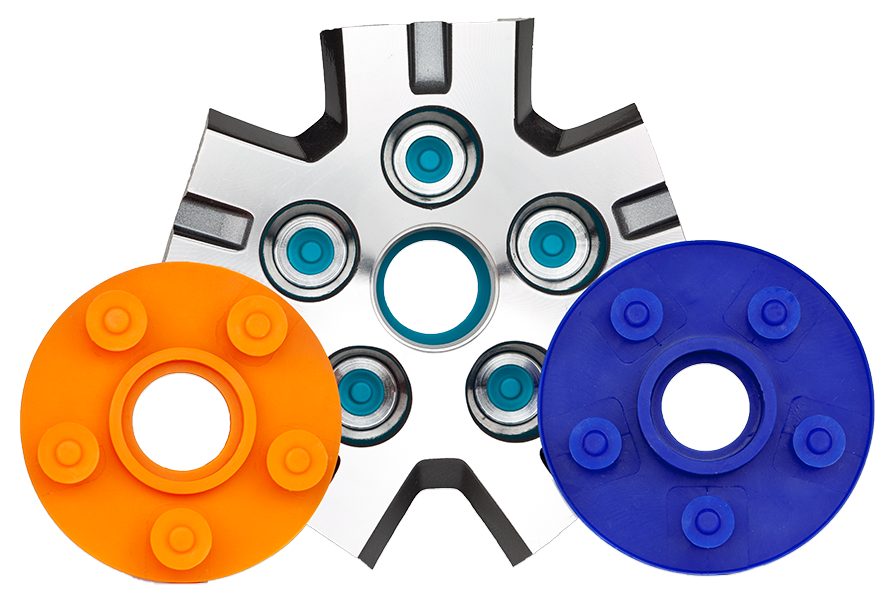 Conclusion
Custom masking is one of the many methods of improving a metal coating line's efficiencies. If you're dealing with lower volumes, most likely you'll want to stick with catalog options. What we suggest is doing a time study and compare to the price of custom masking options. Learn more about what this takes here: Purchaser's Guide for Custom Masking
We completely understand how masking operations can end up being one of the last few items on your to-do list, but don't corner yourself by pushing it off. Custom-molded masking requires engineering design, prototyping, tooling, and time to get parts molded and shipped.
You May Also Like...