As Electric Vehicles increase in demand and fuel-efficiency regulations become more and more strict, automotive manufacturers are looking for more and more ways to lightweight a vehicle. One way they've gone about this is by replacing traditional metal clamps with injection-molded clips and fasteners. Unfortunately, this isn't always a simple task.
Engineering a plastic part to replace a metal component requires expertise in design, material, tooling, injection molding, and validation testing. In this post, we're going to explore some of the designs that have become the go-to for tier-1s and OEMs over the years.
Fastening Designs
There is a vast library of different fastening clip designs automotive manufacturers can implement and optimize. Many of these designs include small, intricate features (such as the tree, hand-grip, and rib-cage designs) that are all subject to flashing and packing issues. Without proper setup and precision tooling, these issues can lead to performance failures
Ultimately, it comes down to design. Improper spacing between features, not enough material, too much material in some spots, etc. ... all lead to parts that down operate or cannot be manufactured.
Below we've listed out a library of clip and fastening designs proven to work and in production with major automotive OEMs. These design elements can be combined and customized to exceed performance specs.
Tree Insertion Design
Tree insertion designs on fasteners and clips have long been used for body panel attachments of all kinds. It is well-known to be a strong design, capable of higher removal forces. An injection molder needs to work diligently to minimize insertion forces without compromising on retention capability.
The intricate features of the tree design require special attention to the spacing between features and areas where there may not be enough material vs. areas with too much material.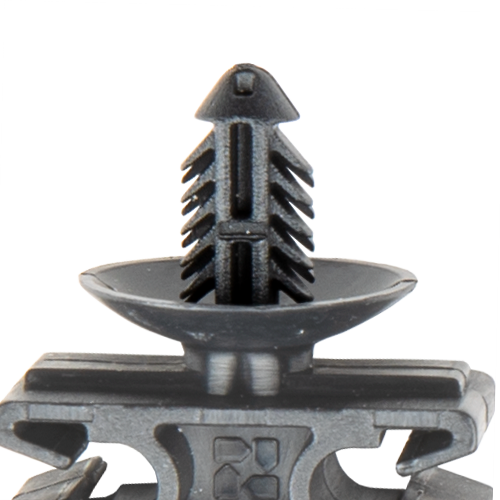 ---
Butterfly Tab Design
Typically installed into panel holes, the 'Butterfly Tab' design is an Echo favorite.
This design is perfect for hard-to-reach places and areas requiring minimal insertion forces during the final installation. We don't recommend this design for fasteners holding multiple, large lines. A tree design has higher retention.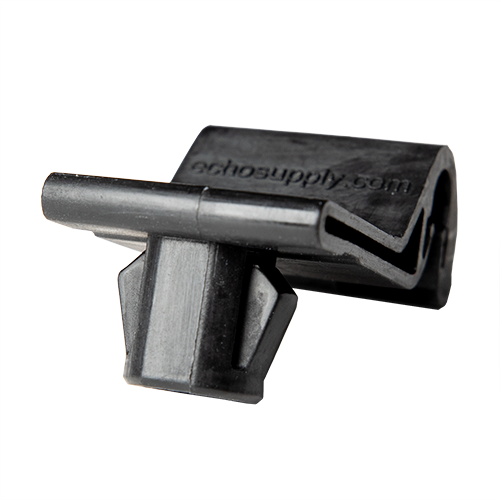 ---
Latch Design
A clip with the lid/latch and living hinge design is a very common method of retaining lines. Latch designs make insertion easy, yet provides a reliable, strong hold. Adding multiple latches to a fastener is recommended when a fastener holds multiple lines.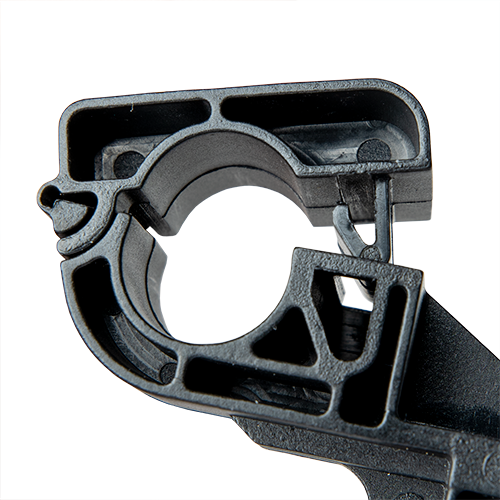 ---
Hand-Grip Design
This style of fastener installs onto a stud (screw). The design features great reliability ensuring low installation forces., but it's a less attractive option for tight space though due to its larger profile.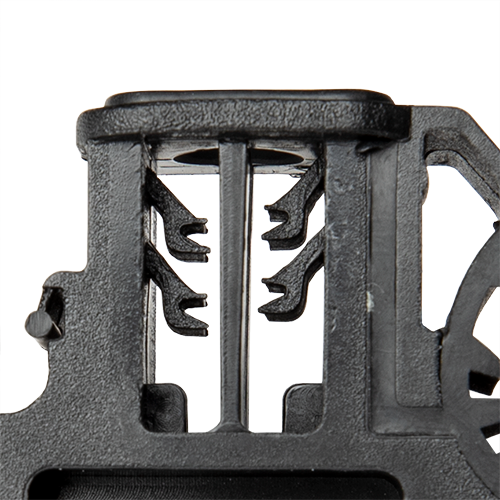 ---
Rib Cage Grip Design
Rib cage-style fasteners install onto a stud (screw). This design sometimes has larger insertion forces than the hand-grips design (above) but has a smaller profile than the hand-grips, making it a better option for tight areas.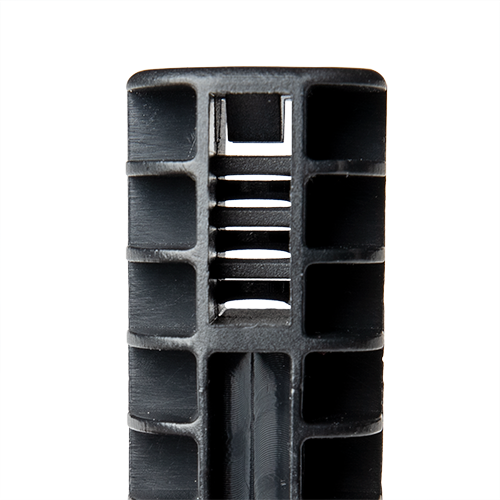 ---
Rabbit Ear Design
Lines install into this. Best for small diameter lines. Great for small areas.
When a fluid routing line is inserted into this type of fastening device, the rabbit ear flap area flexes down, allowing for easier insertion, and then spring back into place in order to retain the line.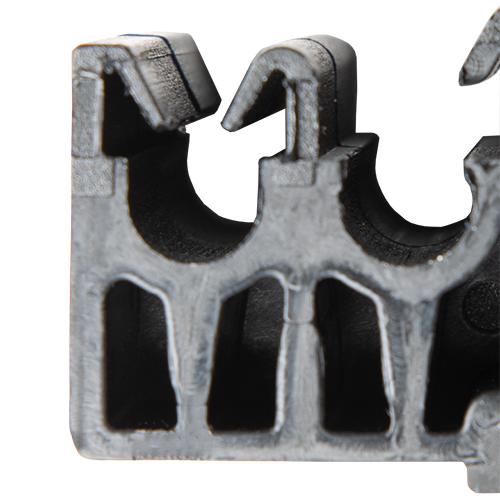 ---
Wedge Clip Design
Fluid routing lines install into this design. It's best for packaging small diameter lines together in bundles. Not as good for retention at the vehicle-level.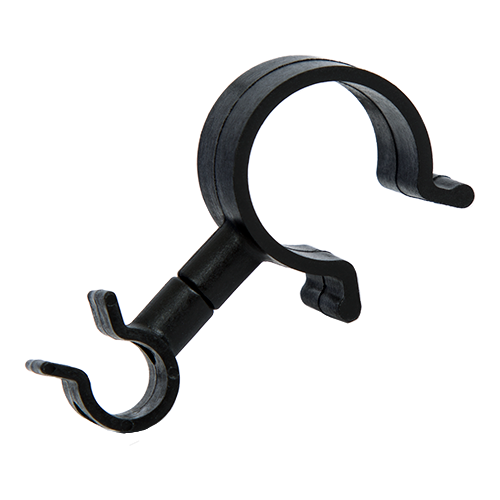 ---
Wedge Clip with TPE Insert Design
This design includes an over-molded TPE material that helps with reducing NVH, and limits both rotation and translation of the lines. The wedge type design makes this clip a simple assembly, yet also provides reliable retention once the line is inserted.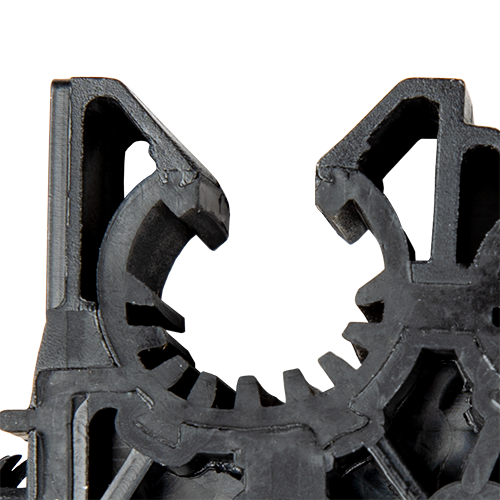 ---
TPE Grip
Commonly used in a lid-latch configuration. The TPE grip is great for reducing NVH, and limiting both rotation and translation. This design has higher retention forces than the Rabbit Ears w/ Grip, but it's a little more complicated to assemble.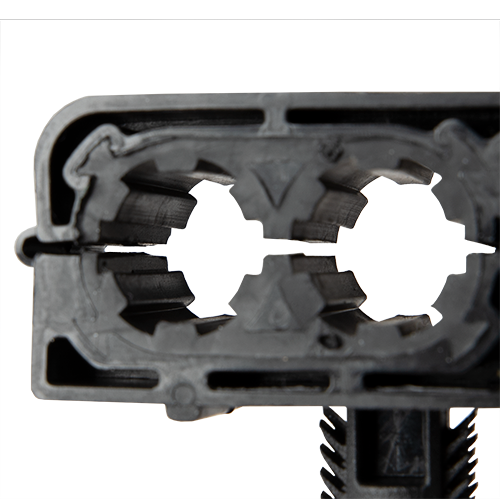 ---
Testing and Validation
While we are not going to goto full detail about testing, it's important to understand that in order to hit and exceed complex OE criteria manufacturers will need ways of determining moldflow, testing insertion & extraction forces, clamping & opening forces, and any other specs that may need to be hit before getting assembled on the final product.
---
Conclusion
Overall, while these are some of the most popular and effective fastening designs being used in automotive applications, the rise of EVs and Hydrogen Fuel Cell vehicles continue to disrupt the industry. We're far from over with optimizing and rethinking the way plastic is used throughout a vehicle.
To see Echo's Design Innovations for yourself, fill out the quick form below to schedule time with our team.