All industries have specific requirements when it comes to masking and the electronics/PCB world is no different! Printed circuit boards often need masking in order to mask off contact points and any other points that you do not want to be coated. In this post, we'll take you through some of the best masking options available to use on printed circuit boards during the conformal coating process.
What is Conformal Coating?
Conformal coating is a thin polymeric film that that is applied to a printed circuit board (PCB) in order to better protect the board and its components from dirt, dust, moisture, chemical, corrosion, and extreme temperatures. Conformal coating is vital towards protecting a board against humidity, which is the most damaging as it can drastically lower insulation resistance between conductors, corrode the conductors, and accelerate high-voltage breakdown.
Why Do You Need To Mask Printed Circuit Boards?
Printed circuit boards have connectors, test sites, and pins where electrical continuity needs to be maintained, which means conformal coating can not be applied to those specific points. There are also other points of a board that needs to be masked, such as unsealed components (like relays or open inductors), through holes, and even LED surfaces where light output may be impacted by the coating.
---
Masking Tapes for Conformal Coating
Masking tape is a very common method of masking printed circuit boards before conformal coating. There are typically several locations on a board that must remain free from coating, an dthe main purpos of masking tapes is to seal off and prevent migration of the conformal coating.
Low-ESD Polyimide Tape
The ideal tape for masking printed circuit boards is the low ESD (Electrostatic Discharge) polyimide tape. The low ESD function reduces the discharge of electroplating static upon the tape's removal. With 2.4 mils of anti-static adhesive, low ESD polyimide adheres strongly to parts without leaving behind residue.
---
Polyimide Tapes
Another very popular and effective choice for masking printed circuit boards is standard polyimide tape. Polyimide tape is flexible, doesn't leave behind any residue, has very high-temperature resistance (500F), and comes in a variety of different sizes (both in roll form and die-cut form).
---
Die-Cuts
If you're manually cutting every piece of tape you use, then you're wasting wayyyy too much time! There are tons of die-cut shapes and sizes available, like the polyimide dot in the image. Die-cut tapes were developed to make the masking process much faster and more precise.
And if your masking requires a complicated design, we highly recommend you consult with a masking provider, like Echo Engineering, to request custom die-cut masking tapes. It's nearly impossible to cut out a perfect circle to mask off a contact point, so we advise not wasting your time on that.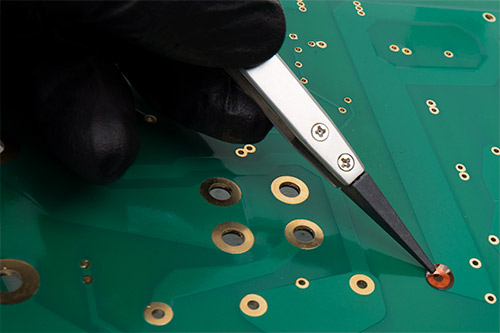 ---
Crepe Masking Tape
Another great option for printed circuit boards is crepe masking tape. It has the lowest price and less risk of static damage compared to polyester tapes. The drawback to this option is that it's not as flexible as polyimide, so won't conform as well. Another benefit of crepe tape is that uses a rubber-based adhesive instead of silicone, helping reduce the rise of silicone residue remaining on the board.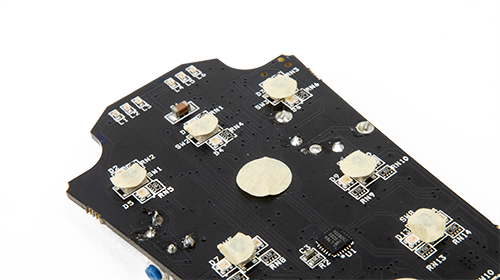 ---
Masking Caps/Plugs for Conformal Coating
The drawback of using masking tapes and die-cuts is that they can be very time-consuming. On top of that, they're one-time use. This is why conformal coaters are shifting more towards masking caps, boots, and plugs. Below we've listed some of the more popular options.
Custom Masking Boots
Masking boots are an excellent way of masking your printed circuit boards as they're easy to install/remove, they're reusable, and the don't leak, which helps reduce costs associated with repairs/secondary ops.
The only drawback to these are they they typically need to be custom made to fit the components you're masking. This requires time and tooling. But, many PCB manufacturers are able to justify the costs due to amount of time they save per board, and the reduction in repairs needed.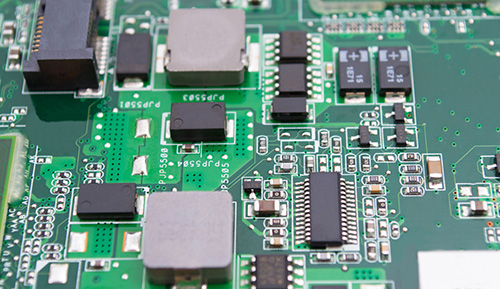 ---
Vinyl Caps
Another popular option for masking PCBs is vinyl caps. These are a great way of masking of components as the vinyl conforms to the part (providing a tight seal) and it's a durable material, making it reusable and easy to install/remove.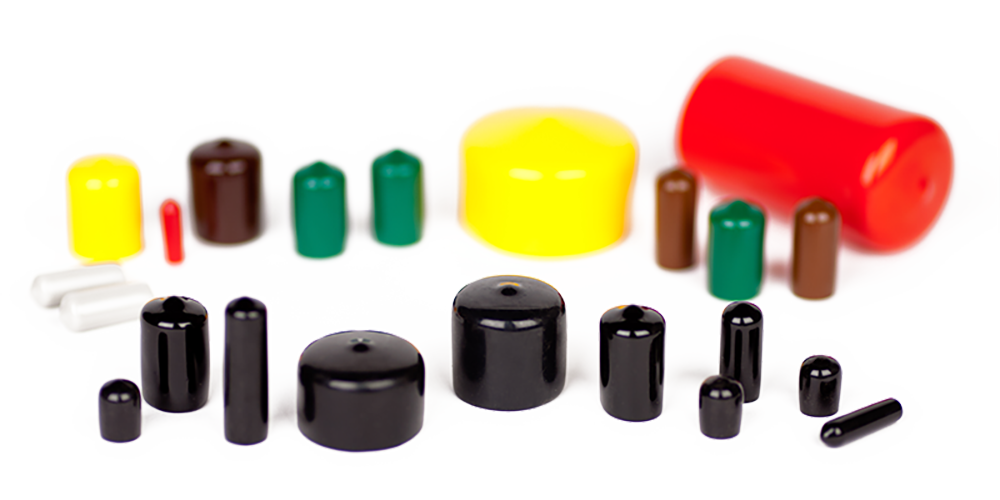 ---
Custom Masking Plugs
Here's a newer option that has a ton of potential with conformal coaters. Pull plugs, like the one shown in the image are custom engineered to be easily installed and removed, while also providing a tight seal for an effective mask.
These are going to be a fantastic option for high outpul lines that need to improve their effiencies, starting with their masking operations.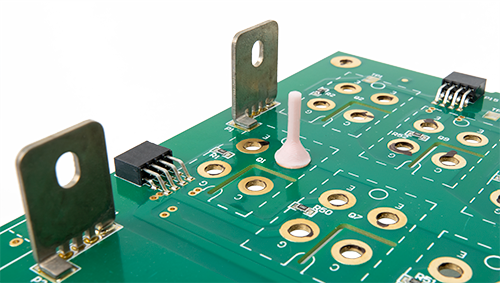 ---
---
Other Ways of Masking PCBs before Conformal Coating
Here are a few other options that are available:
Selective Coating: This method is actually a way for PCB manufacturers to avoid having to mask the boards as it allows the user to select what areas of the board they want to be coated. The issue here is that the selective coating equipment is one of the most costly options if you don't already own the equipment as that alone can cost hundreds of thousands of dollars.
Masking Fluids/Gels: This method requires applying a gel manually or with automated equipment (if you have the necessary equipment). The drawback here is that it will require manual removal that can be tricky to get off if you're not being cautious with it.
---
Bonus Tip - Anti-Static Tweezers
Be sure to use anti-static tweezers when applying die-cut tapes to your printed circuit board to avoid damaging effects of static. You can find these tweezers in stainless-steel with ESD finish (shown in image) or also with ceramic tips that are less prone to scratch surfaces compared to the stainless steel versions. Most users prefer metal tweezers over the ceramic versions, though.
A good set of tweezers, like these, will be vital towards you being able to apply and remove masking tape and dots.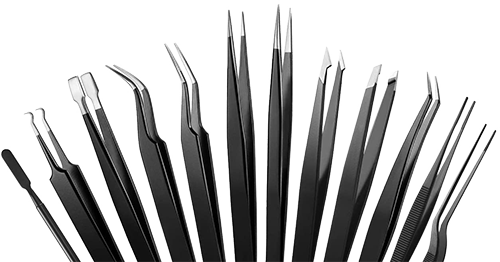 ---
About Echo Engineering
Echo Engineering was founded in 1966 in a garage in Silicone Valley by die-cutting masking tapes for printed circuit board manufacturers. Masking in this industry is how we started. Since then, we've worked with some of the top electronic component manufacturers by providing both standard and custom solutions utilized in all phases of the manufacturing process.
Echo has evolved over the years exponentially and now provides a full suite of services from ideation to fulfillment. We will partner with you in order to create and supply meaningful solutions for your most pressing challenges. Our engineering capabilities include: Ideation & Design, Design for Manufacturability (DFM), Design for Assembly (DFA), Finite Element Analysis (FEA), Material Expertise, Testing, and Proprietary Rapid Prototyping.