How long have you been with Echo and what is your role?
Nate: I've been at Echo for 5 years, coming up on 6 in January. I'm currently a Project Manager, mainly for MRO and sometimes OEM.
Prior to working at Echo?
Nate: I worked at Ducati as a Sales Manager and got to travel across the country to test out their product lines/motorcycles. I also spent 8 years at Industrial Sales & Engineering. I was the Office/Inside Sales/Customer Service/Shipping, jack-of-all-trades person. It was a small business where we sold sensors for automated machinery.
What led you to Echo and what keeps you motivated?
Nate: I was interviewing at another job downtown that ended up being a Pyramid Scheme. Afterward, I pulled into a parking lot to check my emails, and low and behold, there was an email from a recruiter. When I looked up the address, I was already in their parking lot. I mean, it felt like fate.
When I went to the recruiter and started telling them about my industrial sales background, that's when she told me about Echo. The company culture was a HUGE upgrade from my previous work environment. Also, I was able to be more innovative at Echo, which I believe led to receiving the Echo Way award in 2017.
So far, what have been your proudest accomplishments?
Nate: Kyle [an engineer at Echo] and I have worked on countless projects together. Some memorable ones were Caterpillar, Polaris, Rotorion, and CCS Image Group. CCS' project was placing floating tiles onto hotel walls; the picture below is from CCS Image Group.
Furthermore, one of my greatest accomplishments was a group collaboration. Kyle and I both brainstormed multiple times with the customer after work hours to come up with an all-in-one solution. It was such a cool design at the end. You're able to insert it with a flat head screw drive, then turn it clockwise to lock it into place. It's called a Scaffolding Clip.

Are there any noteable hobbies outside of work?
Nate: Well, I'm a Ducatisti … which is a Ducati fan/owner, plus, it's my favorite motorcycle brand. I also own a 1979 Pontiac Firebird that I have been with since I was in the womb… no joke. My dad bought it for my mom just months before I was born. And lastly, my 2010 Ducati 848 Nicky Hayden Special Edition, which is pictured below.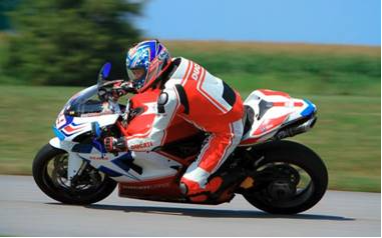 I'm also a long time season ticket member for the Indianapolis Colts, and also a big sports fan of the Pacers, and IU. When I'm not watching sports, it's movie time. I have a Klipsch 7.2.4 Dolby Atmos Surround System with four transducers, and essentially, they vibrate my couch in sync with the explosions on-screen.
Anything else you'd like to add before we part?
Echo supports breaking new ground and streamlining tasks. Another accomplishment that I'm pretty proud of is the OPP intake form. In order to keep fellow employees organized, I came up with a form (which was essentially a detailed checklist) for customer opportunities. I enjoy passing my knowledge along to others to make their workflow easier.
---
Other Employee Spotlights
In this post, we highlight one of our Engineers, Joe Spaulding, and his projects with Echo and what he's doing outside of work