There are various thread types and sizes to choose from these days. Occasionally, you need to know the dimensions associated with those threads, so we're developing posts like this one to make it easy for you.
You'll find a quick reference chart for UNC/UNF - Unified National Threads in this post. If you're new to any of the terminology, scroll down past the chart, and you'll find a list of definitions to help you better. The chart below will focus on the major diameters for external threads and the minor diameters for internal threads. We've included the image below to show these areas better.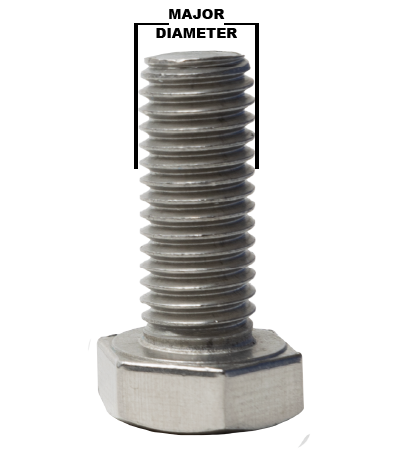 ---
THREAD CHART (UNF-UNC THREADS)
Thread Designation
UNF / UNC
Threads per Inch

Basic Major Diameter

(External Threads)

Basic Minor Diameter

(Internal Threads)

0-80
UNF
80
0.060
0.047
1-64
UNC
64
0.073
0.056
2-56
UNC
56
0.086
0.067
2-64
UNF
64
0.086
0.069
4-40
UNC
40
0.112
0.085
5-40
UNC
40
0.125
0.098
5-44
UNF
44
0.125
0.100
6-32
UNC
32
0.136
0.104
6-40
UNF
40
0.136
0.111
8-32
UNC
32
0.164
0.130
8-36
UNF
36
0.164
0.134
10-24
UNC
24
0.190
0.145
10-32
UNF
32
0.190
0.156
1/4-20
UNC
20
0.250
0.196
1/4-28
UNF
28
0.250
0.211
5/16-18
UNC
18
0.313
0.252
5/16-24
UNF
24
0.313
0.267
3/8-16
UNC
16
0.375
0.307
3/8-24
UNF
24
0.375
0.330
7/16-14
UNC
14
0.438
0.360
7/16-20
UNF
20
0.438
0.383
1/2-13
UNC
13
0.500
0.417
1/2-20
UNF
20
0.500
0.446
9/16-12
UNC
12
0.563
0.472
9/16-18
UNF
18
0.563
0.502
5/8-11
UNC
11
0.625
0.527
5/8-18
UNF
18
0.625
0.565
3/4-10
UNC
10
0.750
0.642
3/4-16
UNF
16
0.750
0.682
7/8-9
UNC
9
0.875
0.755
7/8-14
UNF
14
0.875
0.798
1-8
UNC
8
1.000
0.865
1-14
UNF
14
1.000
0.910
1 1/8-7
UNC
7
1.125
0.970
1 1/8-12
UNF
12
1.125
1.035
1 1/4-7
UNC
7
1.250
1.095
1 3/8-6
UNC
6
1.375
1.195
1 1/2-6
UNC
6
1.500
1.320
1 3/4-5
UNC
5
1.750
1.534
2-4.5
UNC
4 1/2
2.000
1.759
---
Download Full Standard Thread Chart
Fill in your email below to access the full standard thread PDF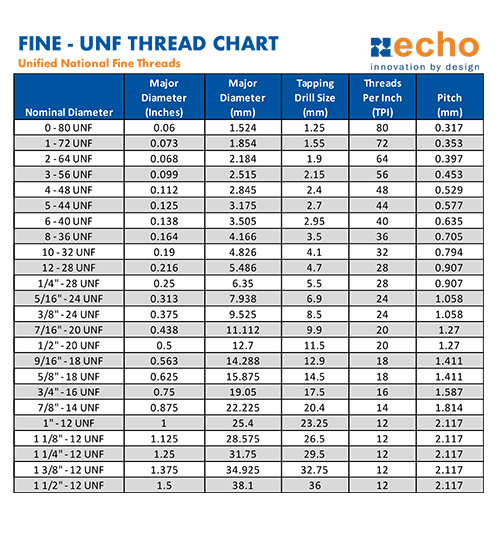 ---
Basics of UNF and UNC Threads
UNF and UNC threads are the most common types of UN (Unified National) threads.

UNC Threads
UNC threads are unified coarse pitch threads.
Less likely to cross-thread
Faster assembly and disassembly (Generally used in mass production)
Large thread allowances allow for thicker platings & coatings
Fewer threads per distance compared to fine threads
UNF Threads
UNF threads are unified fine pitch threads.
Allow for closer adjustment accuracy due to the smaller helix angle
Require less torque to develop equivalent bolt preloads
Fine thread is stronger in both tension (due to larger stress area) and shear (larger minor diameter)
Less tendency to loosen since the thread incline is smaller
Generally used for applications that need high fastener strength
Thread Fit
Thread fit is a measure of looseness or tightness of mating thread. It is specified to designate the amount of tolerance allowance and installation fit desired. There are three different classes of thread fit that they come in:
Classes 1A (external) & 1B (internal): Extremely loose tolerance thread fit. This class is meant for quick and easy assembly/disassembly. (Not Commonly Specified)
Classes 2A (external) & 2B (internal): Optimum thread fit that balances performance, manufacturing, economy, and convenience. (Most common - Nearly 90% of all commercial & industrial fasteners use this class of thread fit
Classes 3A (external) & 3B (internal): Meant for close tolerance fasteners where the accuracy of thread elements is important, and safety is a critical design consideration
---
Using Chart for Choosing Masking Caps & Plugs
There's a variety of different reasons you may have needed to reference the chart, so we hope it was useful for you! Here at Echo, we use it to help powder coaters, e-coaters, anodizers, and platers find the correct sized cap or plug for their specific thread size. So, here are a few tips in case you ever need it.
Cap It
The simple version of finding the right size cap is that we suggest finding one that has an ID (inside diameter) that is 1-2 sizes smaller than the Major Diameter of the thread you're masking off. You want to get a tighter fit for processes like e-coat.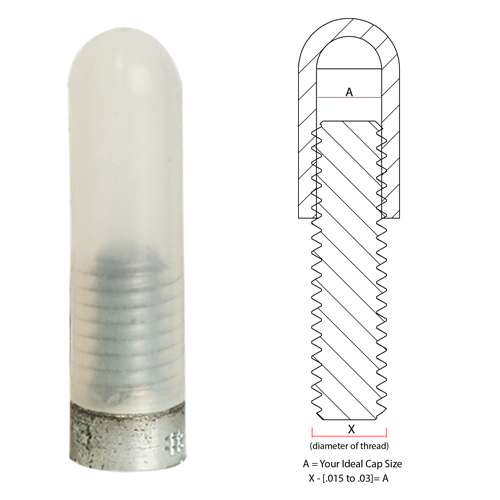 Plug It
For tapered plugs, you'll want to closely match the minor diameter to the middle diameter of the plug (see graphic). If it's not exact, seat the plug deeper in the hole. When you install these plugs, you push them in and then turn them to get a better seal.
UNF threads are fine threads, so this will require more turns to tighten the plug into the hole. UNC threads are coarse threads, so they require fewer turns to tighten the seal.
VIDEO: How to Mask Threaded Holes
---
About Echo Engineering
Echo Engineering has been providing masking solutions to industrial finishers for well over 50 years. Because of that, we are frequently working closely with paint lines to help them find ways of masking off threaded holes and bolts. We specialize in not only standard catalog options, like powder coating tapes, caps, and plugs, but also in designing, engineering, and manufacturing custom solutions for some of the largest metal finishing lines in the world.
If you're in need of a masking solution or simply have a question you'd like to ask us, please fill out the form below and we will get back to you as soon as possible!
You May Also Like...