Die-Cutting & Converting Capabilities
Echo Engineering has a long history of converting, dating back to 1966 when we started out in a garage in Silicon Valley die-cutting masking tapes for printed circuit board manufacturers. Since then, a lot has changed here.
When it comes to quality, we are ISO 9001:2015 certified for the design, manufacture, and distribution of rubber, plastic, die-cut components, and pressure-sensitive tapes.
Capabilities & Machinery
Echo specializes in converting a variety of different materials with and without adhesives. Commonly used materials, such as catalog tapes and rubber sheets, are stocked in-house, and custom materials can be ordered and stocked depending on your needs.
When it comes to custom projects, our in-house team of engineers will work with you to design and develop the best possible solution for your specific needs. This means we will take the time to understand your project requirements and take you through recommendations for
Rotary Die-Cutting
Rotary die-cutting is a very cost-efficient and precise way of converting products at high speed. The way it works is by using a cylindrical die to "kiss" cut shapes and leave them on a roll, similar to stickers. Materials that are primarily converted using our rotary presses include pressure-sensitive tapes (PSA), aluminum foils, lead foils, liners, thin foams, fiber, & cloth.
At Echo, our primary machinery includes:
2 - 7" Rotary Die-Cutters
1 - 10" Rotary Die-Cutter
1 - 30" Rotary Die-Cutter (One of the very few with this sizing capability)
Applications: Masking tape die-cuts, Foam gaskets for automotive lighting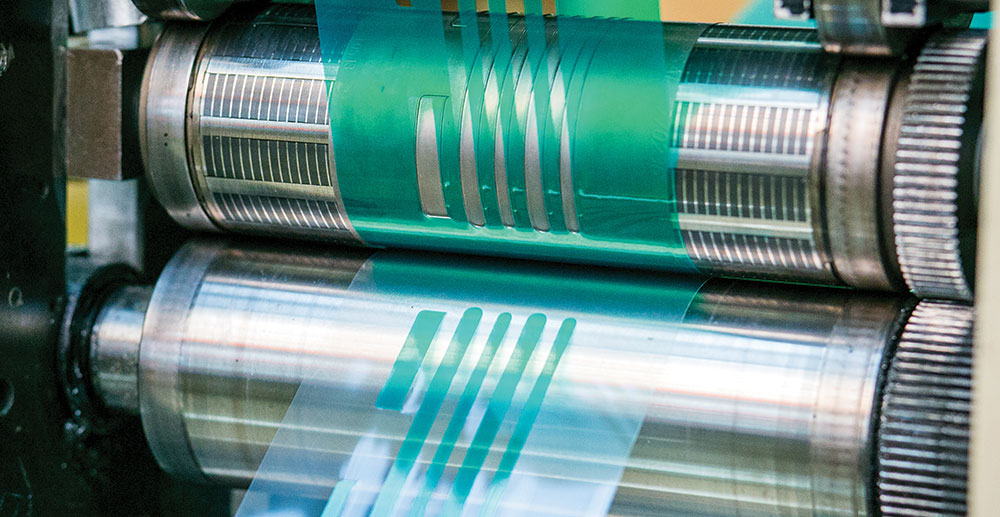 ---
Overhead Die-Cutting
Overhead die-cutting is typically used for low-volume or large parts. The way it works is a steel rule die is used to "through" cut parts into individual pieces, similar to cookie cutting. Parts are typically split-lined for easy installation (similar to what you'd see with a bandage).
Materials typically converted using our overhead machines include rubber, fiber, cloth, paper, corrugated fiber, paperboard, plastics, tape, foam, silicone sheeting, and magnets.
Applications: Outdoor light housing gaskets, large gaskets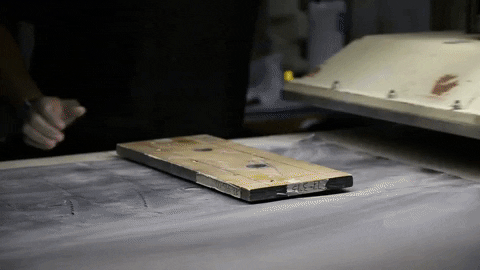 ---
High-Speed Plotter (no tooling required)
We have 2 - 54" wide plotters that can provide rapid prototypes and custom product die-cuts for materials up to 0.047" thick. Plotters allow us to produce custom die-cut pieces quickly without tooling.
Applications: Prototyping & validating masking die-cuts for metal coating processes before moving to production.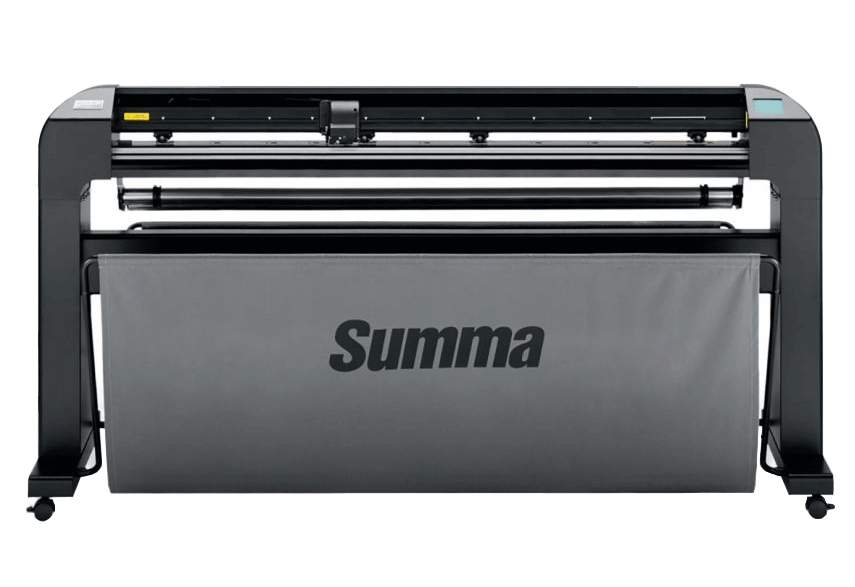 ---
Additional Services & Capabilities
On top of everything listed above, Echo also offers the following capabilities and services for converting:
Slitting: Our machinery can slit materials up to 72" wide into your desired widths, as small as .125" (*We can do smaller than this, but it needs to be reviewed by our engineers first).
Laminating: Laminating is when we apply double-sided adhesive to various materials, Including foams, rubber, and plastic sheeting.
Logging: Our jumbo logging machines are used to rewind jumbo logs of materials into smaller rolls.
Packaging Customizations: Converted products can have a variety of customization made to better tailor to your facility's requirements, such as core type (cardboard vs. plastic core), core size, heat-shrunk protective film, etc.
---
Examples of Our Work
Automotive Lighting Gaskets
Echo has die-cut several high-volume automotive lighting application gaskets that required foam material with adhesive backing and strict quality management requirements.
Due to the high volume of parts needed, we developed these using our 30" rotary die-cutter. We also developed custom jigs using our additive manufacturing expertise to improve the efficiency of our quality management inspections.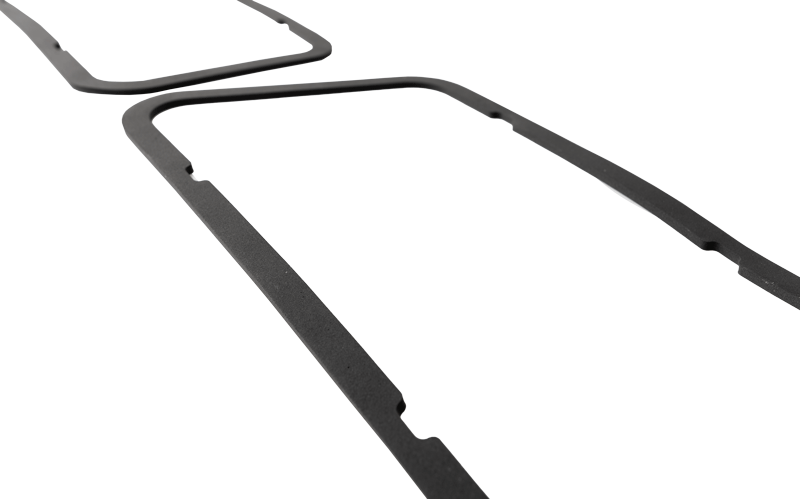 ---
Outdoor Lighting Gaskets
Pictured here is an outdoor silicone lighting gasket that we've done that includes multiple gaskets with adhesive backing on it to save time and money on reducing wasted material. By doing this, the manufacturer we worked with can save time and effort during their assembly processes.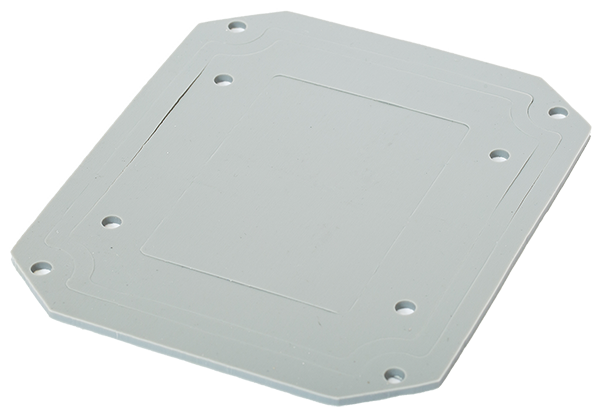 ---
Die-Cut Kits
We can create die-cut assembly kits when you need to apply multiple die-cut pieces to a component, such as brake calipers or engines.
Our customers also go with kit options as a quality assurance measure as it helps to ensure each portion that needs masked doesn't get missed because, by the end of the application process, there should be no pieces left on the kit.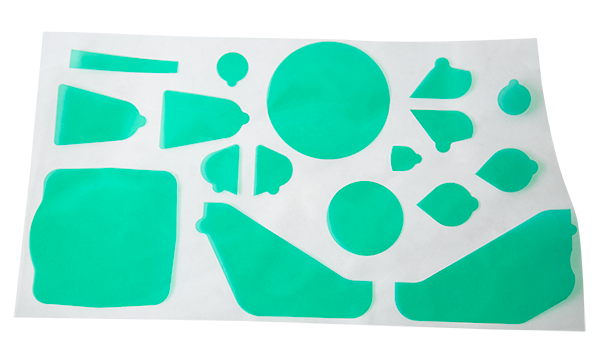 ---
Catalog Masking Die-Cuts
Outside of all the custom projects we worked on over the years that typically require custom tooling, we also offer various catalog options available for purchase online. This selection includes shapes such as dots, donuts, squares, and rectangles, most commonly used in coating projects. Check out the link below to see what options are currently available online.