Fluid Power - Masking & Protection Solutions
Fluid power encapsulates a variety of different components, like a hydraulic cylinder, pumps, hose fittings, etc., that require specialized masking solutions, as well as plastic shipping protection before being sent out to the OEM or end-user. Echo's team is highly experienced in providing solutions that are proven to work.
Hydraulic Masking & Protection Solutions
Protective Shipping Plugs (with Seals)
Cylinder Netting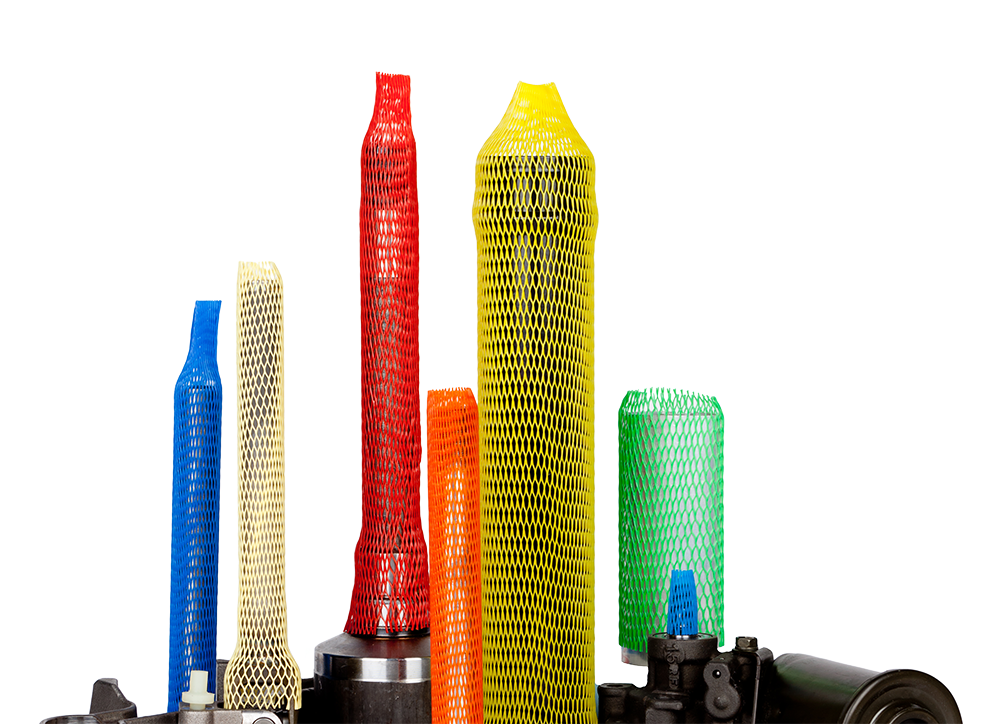 Hydraulic Cylinder Wiper Seal Masks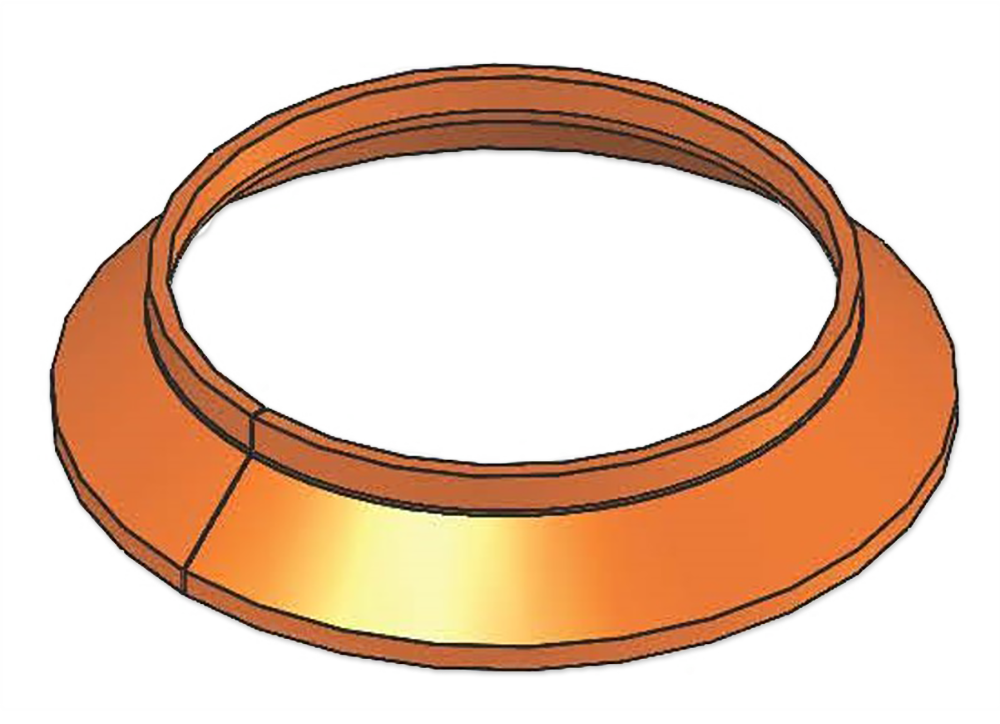 Protecting Hydraulic Fittings, Valves, Hoses, and Exposed Threads
When it comes to hydraulics, it's vital that you're able to protect components from not only dirt, dust, and debris from contaminating hydraulic fluids but also to protect threads from any damage that might impact a part's overall performance. Echo's role here revolves around a large catalog selection of protective caps and plugs, as well as custom solutions designed by our team of experienced engineers located in Indianapolis, Indiana.
Below are some of our most popular options, including red tapered cap/plugs, threaded plugs, and caps.
---
Impact of Dirt, Dust, and Contaminants on Hydraulic Systems
During the manufacturing and shipment process of any hydraulic process, when components are not properly masked or protected several issues can occur:
Degradation of Hydraulic Fluids: Metalic particles end up acting as a catalyst that promotes the chemical breakdown
Cross-Threading: When contaminants make it into threads, you risk damaging threads via cross-threading. This can and will impact critical tolerances and may also result in leakage
Corrosion: Fluid degradation from contaminants can result in critical damage to hydraulic components
Custom Solutions
Catalog caps, plugs, and tapes won't always be the products you need. Hydraulic manufacturers have high output lines and tight tolerance that require custom engineered solutions. Echo Engineering has continued to invest heavily in R&D, rapid prototyping capabilities, testing, and validation.
Why Custom?
Here is what we've seen with our customers. When it comes to making the decision to go down the path of custom solutions, the decision is typically because:
Quantity / Ergonomics: Manufacturers with high line output need a way of installing/removing our components fast and easily. Echo's custom capabilities include highly experienced design engineering and testing for specific installation/removal forces
Quality Issues: Manufacturers have come to Echo because they're running into issues with their current solution falling off, not appropriately protecting, and a variety of other issues that result in quality reject rate increasing
No Catalog Option: For intricate designs, it may be difficult to find an existing part that meets your requirements. This is where custom solutions are needed
Case Study Example: The "Shark Fin" Cap
One of our customers was running into a major issue where their caps were randomly falling off during transit to their customer. This issue stems from the original cap having a design flaw that resulted in an ineffective cap seal that would stop the cap from coming off.
Our engineers came in and redesigned the cap, developed prototypes, and then created a testing process (that was accepted by both the customer and the end-user) involving rapid pull testing under specific conditions to simulate real-world conditions.
The new design also included a ribbed "shark fin" that made it much easier to grab ahold of for both installation and removal. When you're involved with high production lines, these little features make a huge difference.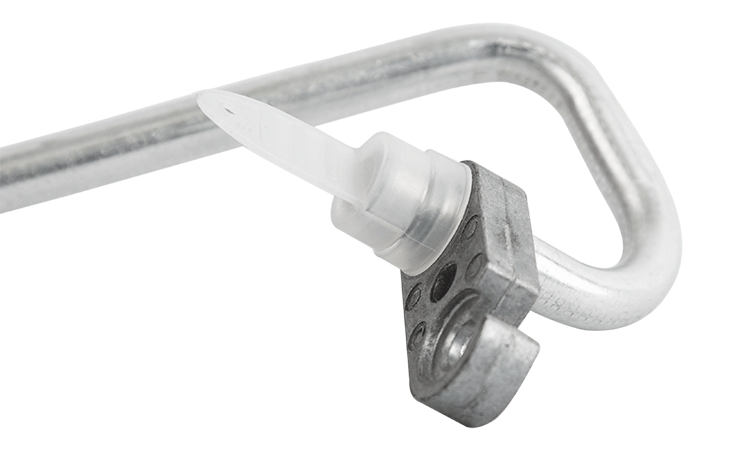 ---
Rethink How You Ship Hydraulic Pumps - Convert Metal to Plastic
High Strength Plastic Flange Plates with Rubber Gaskets
Are you covering up your mating surfaces and ports with metal plates? Better yet, are you also masking your hydraulic pump with it too?
We've worked with customers that used to use plates made of laser-cut steel, which is costly to manufacture and transport due to its dense weight. So, if this sounds like you, maybe it's time you rethink your plate covers.
Check out how Echo worked closely with a hydraulic pump manufacturer to save them $100k annually by converting their metal plates to clear plastic used during paint and shipment.
---
Advanced Injection Molding Components and Expertise
Our in-house engineering team is highly experienced at developing complex injection molded parts that are used in a variety of different applications, including hydraulics. When it comes to injection molding parts, it's not as easy as designing a part and molding it. It's also about having an in-depth knowledge of part design, prototyping, tooling, material flow, testing, and much more.
Fastening Clips and Clamps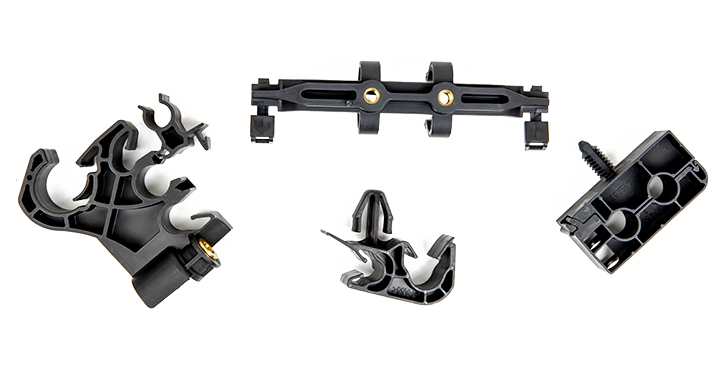 Barbed Hose Connectors