Plastic Molding | Custom Product Capabilities
Echo Engineering specializes in designing, prototyping, and full-production manufacturing of a variety of plastic-molded products you'll find throughout a variety of different applications. From automotive clips, connectors, and suspension components, to electronic housings and even exercise equipment components, Echo has an extensive background that stems from our core background in design engineering, material selection, tooling, and our ability to provide our customers with a mix of both low-volume and high-volume production services.
Plastic Manufacturing Capabilities
---
Processes
Injection Molding (60-610 tons)
Insert Molding
Over Molding
Prototyping
Domestic Injection Molding Presses
60-Ton Hydraulic Machine (1)
90-Ton Hydraulic Machines (4)
110-Ton Electric Machine (1)
150-Ton Hydraulic Machines (2)
180-Ton Electric Machine (1)
190-Ton Hydraulic Machine (1)
250-Ton Electric Machines (3)
250-Ton Hydraulic Machines (4)
310-Ton Hydraulic Machines (3)
390-Ton Hydraulic Machine (1)
610-Ton Electric Machine (1)
Secondary Operations
Assembly
Hot Stamping
Decorating
Tooling Capabilities
Automated CNC
Vertical Mills
Horizontal Lathes
EDM
Ultrasonic Polishing
Graining
Chrome Plating
Tooling Coating
Plastic Materials
Acrylonitrile Butadiene Styrene (ABS)
Acrylic (PMMA)
Low-Density Polyethylene (LDPE)
Polyethylene (PE)
High-Density Polyethylene (HDPE)
Polypropylene (PP)
Polyamides / Nylon (PA)
Acetal / Delrin® (POM)
Polyvinyl Chloride (PVC)
Polycarbonate (PC)
Polyurethane (PU)
Thermoplastic Elastomers / Santoprene® (TPE)
Thermoplastic Urethanes (TPU)
Many others, ask an Echo representative
---
Our Process
---
Step 1: Design
Our engineering team will work with you through our Design for Manufacturing (DFM) process to either optimize your current design or design a part from scratch to meet your specific requirements. Our process includes reviewing the materials needed, the functionality of the design, the moldability of the part itself, and any tooling optimization.
Step 2: Prototyping & Validation
Once the design is approved, we can move on to prototyping the part to validate that it works for your application if necessary. We have multiple options to source quick, prototype molds or even use our additive manufacturing technologies to review design intent and product functionality.
Step 3: Quality Assurance & Validation
Once prototypes are completed, we inspect and test them (when needed) to ensure they meet your requirements before shipping them to you to test out. If anything is off, we will make revisions and repeat.
Step 4: Tooling Kickoff
Once everything is approved, and a PO is submitted, we will begin production tooling design and kickoff. Part complexity and quantity factor into the timing required to complete the mold. Production tools are typically made using hardened tool steel instead of aluminum. This allows our die life to be extended, reduced maintenance on the dies, and a more efficient manufacturing process overall.
Step 5: Production
Once the first shots from the tool are reviewed and approved, the first articles are provided to the customer for their final approval. Pending any final modifications needed, we are able to start fulfilling production quantity orders to ship to the customer.
---
Applications
---
Fastening
Echo has a deep understanding of how to develop & manufacture fastening components, including an entire library of fastening design features, comprehensive testing of insertion and removal force, tool design, material flow, packaging, and many other elements of what it takes to make clips & fasteners to spec.
Parts We Specialize In:
HVAC Line Clips
Brake Line Clips
Radiator Hose Fasteners
Wire Harness Brackets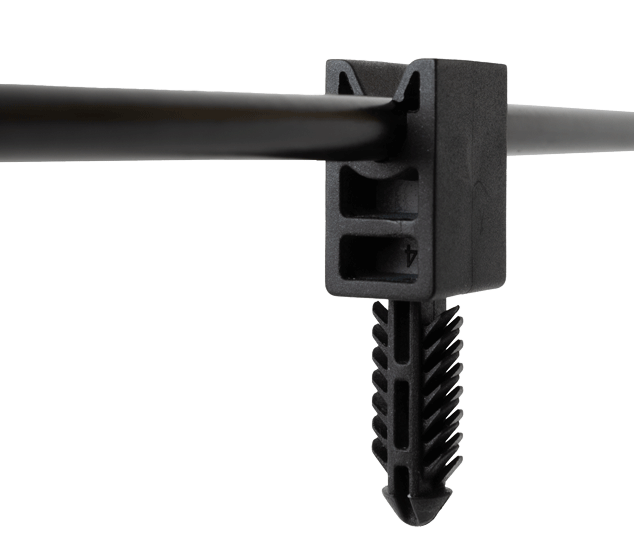 ---
Connecting
Automotive connectors and adaptors are prone to residual stresses that can warp round portions after being released from the mold. Echo specializes in product design review and tooling optimization to ensure you receive parts that meet tight tolerance requirements. We have shipped millions of these parts over the years at a world-class PPM rate of less than 2.
Parts We Specialize In:
Brake Line Adaptors
Coolant Line Adaptors
Multi-Barbed Connectors
Multi-Way Connectors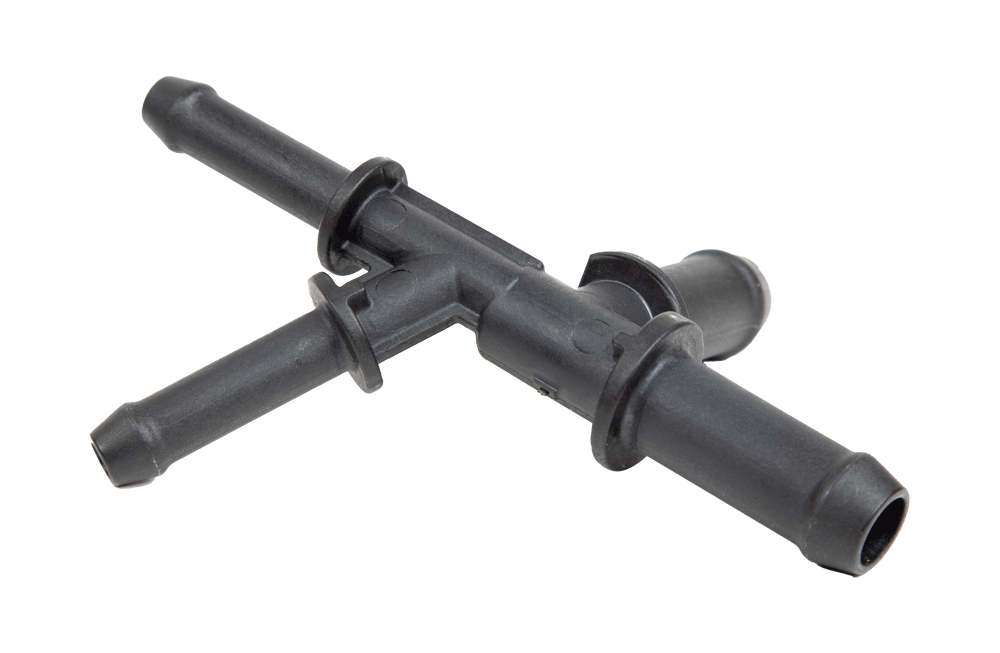 ---
Suspension
Injection-molded automotive suspension components are naturally complex. Echo is highly experienced in designing for the high strength and impact resistance specs needed in suspension components.
Parts We Specialize In:
Striker Caps
Spring Isolators
Jounce Bumper Assemblies