Whether you're finishing a few wheels or a few thousand wheels, this masking guide can benefit anyone interested in properly masking their wheels on all budgets. We are going to review the overall masking techniques and solutions for different parts of the wheel to ensure protection on your finishing line.
We will review how to properly mask:
Spokes
Lug Holes
Mating Surfaces
How To Mask The Spokes
Since spokes are the face of a wheel, it is important to achieve clean lines for a quality finish, and to achieve this look, we must first choose the best tape for your process. When deciding on a tape, keep in mind, you need a tape that will adhere to the curves of the spokes, the temperature rating of the finishing process, and the type of finishing process.
For Conformability: Use Blue Poly Tape
Blue poly is a great tape for masking the spokes during powder coating, e-coating, and plating because of the flexibility of the tape to conform to the curved surfaces on the spokes. Blue polyester tape is rated at 400°F, making a great option for most powder coating applications.
---
For High Temps: Use Glass Cloth Tape
Glass cloth tape is thicker than blue poly and has a temperature rating of 500F / 260C, making a great option for thicker coats and curing ovens that exceed 400F.
Note: Glass Cloth Tape has a porous backing, and is NOT recommended for plating or e-coating
---
For Faster Application & Precision Lines: Use Custom Die-Cuts
If you're masking spokes in larger quantities, you should consider using custom die-cuts. Die cuts are specifically cut to the sizes of the spokes, which ultimately eliminates labor and improves your quality. The application of die-cuts is as simple as peeling off the tape and applying it in the proper position. Custom die cuts are available in multiple tapes, including blue poly.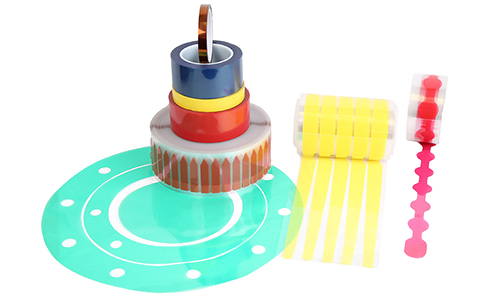 ---
How to Mask Lug Holes
Lug holes are an essential part to the wheel, so it's important to properly mask them before your finishing process. Here are a few different solutions that will meet various needs.
Solution 1: Rubber Pull Plugs
Pull plugs are ideal if you're only concerned with masking the inside of the lug holes. The body of the pull plug offers a tight seal around the threads of the lug holes, and the handle allows for an easy removal process.
If you're finishing in high temperatures like powder coating, Silicone Pull Plugs are recommended because of their temperature rating of 600°F, but if silicone is either banned from your line or you don't necessarily need that high of a temperature rating, EPDM material is also available with a temperature rating of 350°F.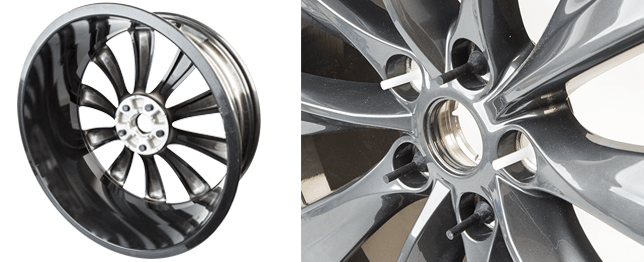 ---
Solution 2: Custom Plugs
Although standard pull plugs can be great for masking the lug holes, they don't offer any protection to the front where the lug nuts will sit. Consider using custom plugs that protect the lug nut sitting area if you're concerned with lug nuts sitting on a coated surface. These masks are custom designed to your specifications to ensure a more efficient seal for the lug holes and the lug nut sitting area.
One of our custom plug solutions is a drop pin. Drop pin designs are similar to pull plugs in the handle for easy application and removal, but they are also designed with an additional flange to securely mask the front of the lug holes to the exact specification needed. (Shown in pic)
Solutions to protect the front of the lug nut sitting area may vary because of the variance of application, type of finishing process, and overall coverage required.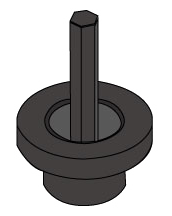 ---
Solution 3: Custom Spider Style Mask
Maybe inserting plugs into each lug hole is too labor-intensive for your process, or maybe you have automated lines and would like a mask that works within your process. Our solution is called a spider mask, which is great for low labor and automated lines. Spider masks are designed to tightly mask lug holes while individually connecting each plug together as one mask. (See image) The design for the backing of the mask allows automated lines to pull off the mask while eliminating labor.
Although spider masks are great for automated lines, they should only be used for wheels with few lug holes and low-temperature processes. Spider masks are typically made with a lower-temperature material because of their design and application. They may be used for powder coating processes, but the mask must be removed before heading into the oven.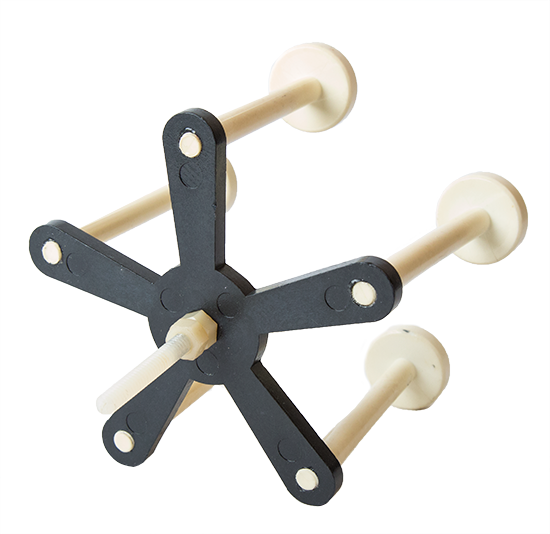 ---
Solution 4: Custom Molded Mask
For wheels with multiple lug holes, you probably won't want to use individual standard or custom plugs because it's too much labor, and we now know you can't use spider masks because of the limited design and limited powder coating usage. So what do you use?
One of our most common masking solutions for multiple lug holes is a custom molded wheel mask, like the one featured below. This mask is designed to protect the specifications of the lug holes, threads, center bore, and masking surface for a clean, crisp finish. The masks can also be designed with flanges on the end of the plugs to protect the front sitting area of the lug holes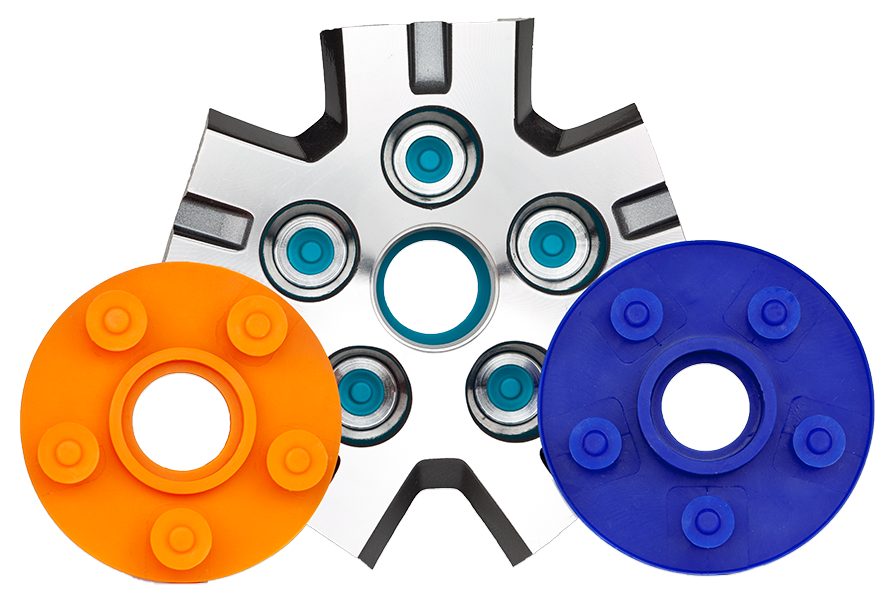 ---
How to Mask the Mating Surface
Masking the mating surface is easy, and just about anyone finishing a wheel can afford a masking solution. Whether you're looking for a custom mask or a simple solution, we've got you covered.
Solution 1: Green Poly Discs
One of the most inexpensive solutions to properly masking the mating surface is using green poly discs. Green poly discs are die cuts used to cover the mating surface and may be used in high-temperature finishing processes, like powder coating.
The application is as easy as a peel and place sticker, but be sure to apply pressure to secure the tape to the wheel.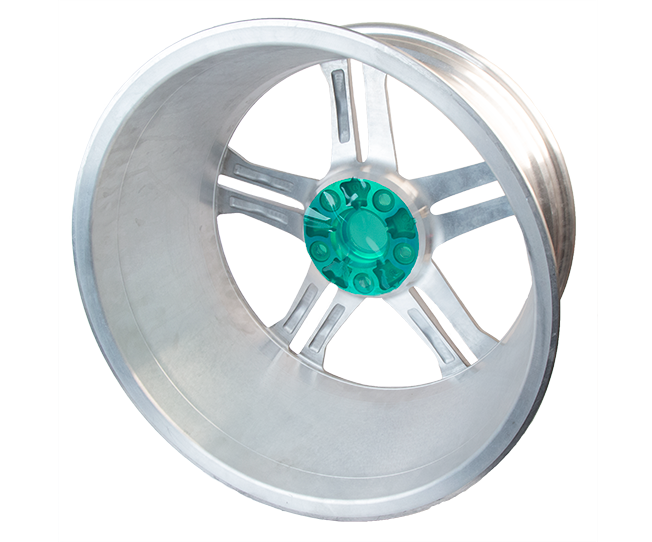 ---
Solution 2: Custom Molded Mating Surface Wheel Mask
If you're already masking your lug holes, and a custom mask is more appealing for your application, consider using the custom wheel mask as mentioned above. This multifunctioning mask protects the lug holes, center bore, and mating surface, which can lower your overall masking expense and save labor time.
Not only is the mask multifunctioning, but because it is designed to the specifications of the wheel, the mask will fit like a glove, and you're nearly guaranteed a clean finish on the mating surface. As shown below, the custom wheel mask has a protruding lip around the mask to critically seal the mating surface from the rest of the wheel. Specifications may be changed due to preference and application.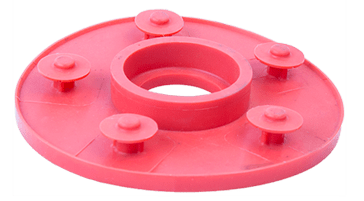 ---
Overview
Wheels are complex and unique, and not every wheel can be masked the same way. The solutions listed are only naming a few of our most common techniques for masking wheels. These designs can easily be modified due to personal preference, type of processes, usage, and budget.
If you're interested in learning more about masking your wheel or would like a custom quote, please reach out to us and we will get you connected with a representative and an engineer.